How Are My Custom Aligners Made?
Invisalign is a great option for straightening teeth or correcting a patient's bite without metal braces. The process involves using a series of custom made trays to gradually apply pressure to the teeth and shift them in your mouth. If you have ever wondered how the clear aligner trays are actually made, keep reading to learn all about the process of making clear aligners from start to finish.
Your Orthodontist Takes Detailed Measurements
The first step in creating custom molds for your Invisalign treatment will be collecting information about your mouth. An Invisalign-trained orthodontist will take x-rays to get a more accurate idea of your jaw shape and use the Invisalign iTero Element scanner to quickly and painlessly capture a 3D image of your teeth.
Technicians Create a 3D Model
All of this information will be sent to Align Technology, the company that creates the aligner trays. Technicians will input all the data sent to them from your orthodontist into their computers, and then they will create an extensive 3D model of your mouth. This detailed model is essential to coming up with your treatment plan.
Orthodontists and Technicians Run Simulations
After Align Technology has a 3D model ready, they will work with your orthodontist to create a treatment plan. The orthodontist will take into account the goals they discussed during your smile assessment and decide on the best course for correcting the alignment and positioning of a patient's teeth. The company will run multiple simulations to track how teeth will change over the course of the treatment and decide on how many aligners will be necessary.
Align Technology Manufactures the Aligning Trays
The material used to create the aligner trays is a specially engineered substance called SmartTrack material. This is a medical grade, clear plastic material that is firm enough to apply pressure on the teeth and flexible enough to feel comfortable and snug in the mouth. Align Technology uses their industry-leading technology to mold a set of trays precisely calibrated to your treatment plan. Each aligner is individually trimmed and shaped to fit your unique mouth, and then they are sent to your orthodontist to begin your treatment.
As a 2017 Elite Invisalign provider, Dr. Sam Ghosh of Ghosh Orthodontics has plenty of experience using this technology. Call us today at (855) 374-4674 to learn more about the process of straightening your smile with aligners. When you call, we'll schedule your complimentary, no-obligation braces consultation and assessment.
Latest Orthodontic Articles
SmyleAlign™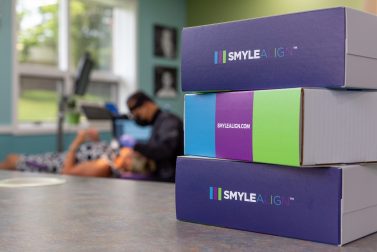 Read Our Blog
Braces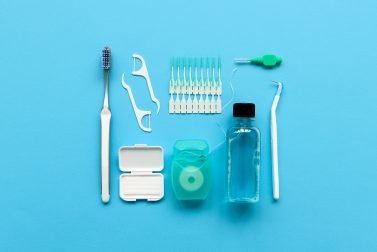 Read Our Blog