Frequently Asked Invisalign Questions
Updated on September 9, 2021
Invisalign has been one of the most popular orthodontic advancements in recent years. You have most likely seen the before and after pictures and were intrigued by the invisible nature of this treatment. A growing number of people prefer the Invisalign treatment system because the aligners are barely noticeable.
With growing interest in the Invisalign system, we get many questions about the process and the treatment timeline. Learn about this revolutionary system by reading through our most frequently asked questions.
How Does Invisalign Work?
Invisalign is a modern alternative to the traditional metal braces for aligning teeth. This system straightens teeth through a series of transparent, custom-made plastic trays that are changed roughly every two weeks as the teeth come into alignment. The new trays move teeth by applying constant pressure.
Does Invisalign Work for Everyone?
Not every condition can be treated with Invisalign, but the vast majority of them can. The only way to really find out if Invisalign is a good option for helping straighten your teeth or improving your bite is to schedule an examination with an orthodontist. They will evaluate your situation and let you know if you are a good candidate for the Invisalign process.
How Long Do I Need to Wear Invisalign Aligners?
Initially, your orthodontist will take digital impressions of your teeth. Once your trays are made, then you will need to return for fitting and to begin treatment. How long you will need to wear each tray and how often you will need to return for evaluations, depends upon the severity of your problems and how well you adhere to wearing the trays.
Generally, treatment can take anywhere from six months to 24 months.
What are Invisalign aligners made of?
While traditional dental braces use a system of wires and metal to straighten the teeth, aligners are made out of a clear plastic material that is more flexible and comfortable to wear.
The trays are made out of flexible plastic using 3D imaging technology. The plastic used in the aligners is FDA-approved and does not contain BPA, BPS, latex, or gluten.
How many hours a day should Invisalign be worn?
Invisalign clear aligners are most effective when they are worn 22 to 23 hours per day. The aligners should only be removed for eating, brushing, and flossing. You should be sleeping in your aligners as well.
We don't recommend that Invisalign be worn any less than 22 hours per day. In order for the aligners to maintain enough pressure to move the teeth, they need to be worn full time. Patients that fail to wear their aligners for the prescribed amount of time could see longer treatment times.
What are the advantages of Invisalign over Braces?
The most obvious advantage to Invisalign is the fact that people might not be able to tell you are going through orthodontic treatment. Because the trays are transparent, you can straighten your teeth with almost no one noticing. This advantage is perfect for people who find braces unattractive or would be too self-conscious throughout the process.
Is there a hygienic advantage to using Invisalign?
Unlike braces, Invisalign can be easily removed to let the patient eat whatever foods they want and to take care of their daily oral hygiene without the need for special brushes or more than the usual level of attention. This makes keeping your smile healthy much easier by promoting good oral health.
Does Invisalign require more or less office visits?
Patients using this system do not need to make as many appointments with their orthodontist as a patient with braces. This is because the teeth of patients who wear braces are subject to food and bacteria getting stuck behind the brackets and need special care. The orthodontist may need to make adjustments to the braces themselves if the patient finds them very uncomfortable, if wires or brackets are broken, or for other reasons. Invisalign better fits into a busy schedule.
Is Invisalign More Expensive than Braces? Are there Payment Options?
Invisalign does cost a bit more than traditional braces, but there are many insurance plans that will cover treatment. Ghosh Orthodontics also makes treatment affordable by offering monthly payment plans and options to fit Invisalign into your budget.
To learn more about treatment plans, contact the Ghosh Orthodontics team to schedule your free consultation.
Latest Orthodontic Articles
SmyleAlign™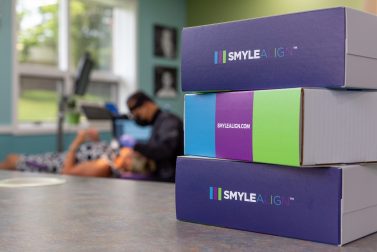 Read Our Blog
Braces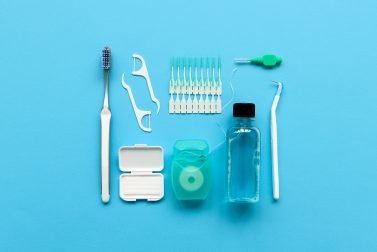 Read Our Blog