The Dos and Don'ts for Caring for Invisalign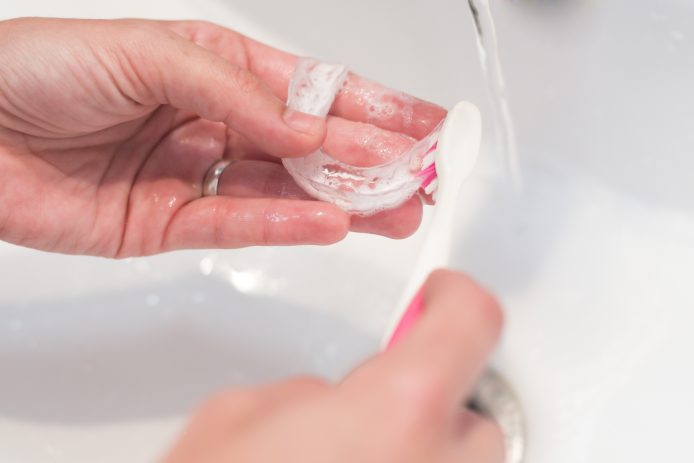 Updated on September 30, 2021
Invisalign is one of the most popular braces options due to the fact that it is one of the most convenient and discreet options to straighten your teeth on the market. Invisalign braces are made from a clear, thermoplastic material that is crafted to custom fit your teeth. Unlike traditional braces, they are nearly invisible and removable.
Wearing clear aligners does carry responsibility for the patient because they need to be taken care of properly in order for treatment to be successful. We put together a list of Invisalign dos and don'ts to help Invisalign patients learn how to properly care for their aligners throughout their treatment.
Do Clean the Aligner Trays Regularly
Aligners can be easily removed and cleaned. It is so important to clean your Invisalign trays every day because the aligners are exposed to the same bacteria and plaque that your teeth are exposed to. It is essential to clean them every time you brush your teeth. We also recommend rinsing your aligners before putting them back in your mouth after eating or drinking to wash away any particles that may be lingering on them.
When cleaning your aligners, be sure to use gentle solutions because harsh chemicals can damage the plastic. To clean your aligners, use denture cleaners or any other mild solution that is recommended by your orthodontist.
Do Wear the Aligners for 20 to 22 Hours Each Day
We recommend our patients wear their Invisalign trays for 20 to 22 hours per day unless we specifically instruct otherwise. In order for Invisalign to work, consistent pressure needs to be put on your teeth in order to move them into the correct position. Wearing them for any less time can affect the length of orthodontic treatment and cause you to have to wear your aligners for a longer period of time.
Do Store the Aligners in a Cool, Dry Place
Since Invisalign is removable, patients should take out their trays to eat, drink, and perform their daily oral hygiene routine. In these instances when the aligners are taken out, make sure to use the case that is provided as this will keep them clean and prevent them from being misplaced. You should also store them out-of-reach from children and pets to keep them from getting damaged.
Do Handle the Aligners with Care
Be sure to pay attention to how you put in and remove the aligners. You should always place the trays in the front of your mouth first and then move to the back molars. To remove the trays, start from the back molars.
Inserting and removing Invisalign with a gentle hand can help keep them safe. The plastic is malleable, so if you tug at them too hard, you could tear the plastic or distort the shape of the aligner.
Do Follow a Consistent Oral Health Routine
As we mentioned, your Invisalign trays are exposed to the same bacteria and plaque that your mouth is, which is why it is so important to keep your trays clean. It is equally as important to keep your mouth clean and healthy during Invisalign treatment to prevent the need for dental work. Orthodontics isn't just about beautiful smiles, it is about promoting healthy ones as well. Be sure to keep with your brushing and flossing routine. Learn more about how to prevent cavities while wearing Invisalign.
Don't Eat or Drink While Wearing Invisalign Aligners
Patients should get into the habit of removing their aligners prior to eating or drinking. Eating with aligners can also cause food and sugar particles to linger on your teeth, contributing to plaque build-up and tooth decay. If you are mobile and cannot take your aligners out, make sure to use a straw when consuming dark teas, coffee, or soda.
We also strongly encourage you to never drink hot beverages, such as coffee or tea, while wearing your aligners. This can not only stain the aligners and make them visible, but it can distort and melt the plastic.
Don't Heat Invisalign
You should never leave your aligners in a hot car or try to boil them to clean them. Because they are made of plastic, the heat can melt the aligners and warp them. Avoid rinsing them with hot water as well, lukewarm water will do the trick for on-the-go Invisalign cleaning.
Don't Chew Gum While Wearing Aligners
Like braces, you can't chew gum while wearing aligners. This can damage them and cause sugar to build up, leading to potential cavities, plaque buildup, and tooth decay.
Don't Soak Invisalign in Mouthwash
Many patients think that soaking their trays in mouthwash will kill bacteria and help with bad breath. We strongly recommend not trying this method to clean your aligners. Oftentimes, there is a color pigment in leading mouthwashes. This can stain the aligners and make them visible on your teeth.
Don't Undergo Extensive Dental Work
While routine cleanings are okay and even recommended during Invisalign treatment, you should not have extensive dental work done while undergoing orthodontic treatment.
If you must get extensive dental work done, make sure to schedule those appointments prior to Invisalign treatment. This will ensure the smoothest course of treatment. You should also consult with your orthodontist before scheduling any dental appointments if you are already undergoing treatment.
Ghosh Orthodontics is an expert orthodontist in Eastern Pennsylvania, providing Allentown and Pottsville residents with beautiful smiles and exceptional customer service. If you have questions about Invisalign, please contact us or make an appointment to begin Invisalign treatment.
Latest Orthodontic Articles
SmyleAlign™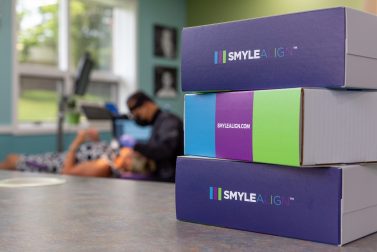 Read Our Blog
Braces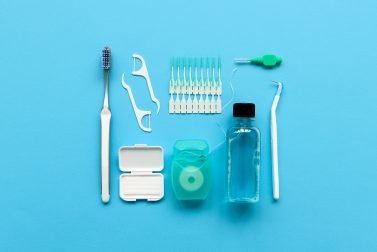 Read Our Blog