The Advancements in Braces and Orthodontic Technology
The leaps and bounds technology has taken in the last decade has changed the practice of orthodontics. Increasingly, orthodontic practices utilize digital computer imaging to create an accurate fit. Having a 3-D model of teeth enables the doctor to gradually move teeth within a fully constructed plan.
A NASA developed orthodontic breakthrough involves heat-activated nickel-titanium alloy wires. The high-tech properties of this wire make it remain flexible until it is heated inside the mouth. As the wire warms to body temperature, it will begin to gradually move teeth. This process of heat activation means the wires retain their tooth-moving abilities longer than ordinary metal wires.
Another aligning technology that has improved treatment is the "sliding door" bracket system. A sliding wire glides freer. Teeth have less pressure, which causes a more relaxed but still productive treatment. The teeth also stay cleaner and build up less plaque because there are no metal or elastic ties to floss and brush around.
Invisible and removable straighteners are very common now. The materials cause fewer mouth sores during the straightening process. They can be removed, and the mouth can be thoroughly cleaned daily. With the improvements in imaging and modeling, the orthodontists can plan a series of invisible aligners for each stage of the moving process.
These advances in orthodontic treatment are not only perfecting smiles, but they are also correcting misaligned jaws and teeth. Misalignments can impact chewing, oral hygiene, and they may cause future jaw joint problems. Teeth that are not correctly aligned can be difficult to floss, which can lead to gum disease and tooth decay. A tooth that protrudes or that create a cross bite can break. The teeth can also wear uneven. An open bite is when the teeth do not close together. The upper and lower teeth do not come down on each other. This condition can cause speech impairments. All misaligned teeth can cause pain, TMJ, gum disease, or cavities.
Dr. Sam Ghosh offers free, no-obligation braces consultations. Ghosh provides several types of braces treatments, including Invisalign braces, and the Damon System. Invisalign braces are an invisible series of removable aligners that help straighten the patient's teeth without the use of metal. Our special Invisalign teen braces are specifically designed for teens, allowing them to remove their Invisalign teen braces whenever they want in order to eat their favorite foods without worry. Then there's the revolutionary Damon system, which consists of braces that are self-ligating, which means patients will feel less pressure. The lack of elastic or metal ties results in less problems with plaque buildup as well. For more information or to schedule your consultation, please call us at (855) 494-0046. You can also fill out our online form and a team member will get back to you ASAP. Ghosh Orthodontics is conveniently located in Allentown, Lehigh County, and Pottsville, Schuylkill County, Pennsylvania.
Latest Orthodontic Articles
Braces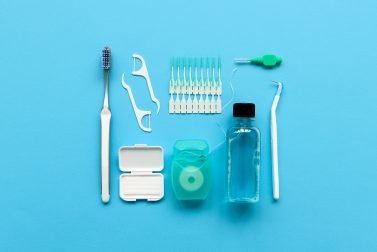 Read Our Blog